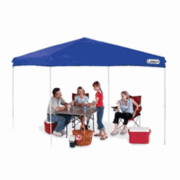 Description
10x10 Pop Up Tent
Looking for a reliable and easy-to-use pop up tent for your next outdoor event? Look no further than our 10x10 Pop Up Tent! This tent is perfect for any occasion, from backyard barbecues to outdoor markets and festivals.
Crafted from high-quality materials, this tent is built to last, with a sturdy steel frame and durable polyester canopy that can withstand wind, rain, and sun.
Whether you're looking to create a shaded area for guests to relax in, or you need a sheltered space to display your products or services, our 10x10 Pop Up Tent has you covered. So why wait? Order yours today and experience the convenience and quality of our pop up tent for yourself!