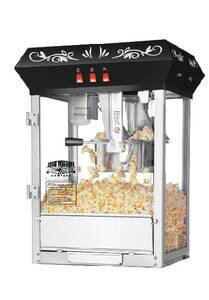 Description
Looking for a fun and easy way to make movie nights at home even more special? Look no further than our top-of-the-line popcorn machine! With its sleek design and easy-to-use features, this machine is the perfect addition to any home theater or entertainment room.
Featuring a powerful heating element and built-in stirring system, our popcorn machine ensures that every kernel is popped to perfection, creating a delicious and satisfying snack that everyone will love. And with its large capacity, you can make enough popcorn to feed the whole family in just minutes!
So why wait? Order your popcorn machine today and start enjoying the ultimate movie night experience!
Includes bags and popcorn for 25 guests